The Antonov An-2 biplane, the largest single engined biplane, is still in service in the military of some countries and in use as a civil aircraft and private aircraft in many others. It is also on display in museums around the world. Like the DC-3, it's easy to find from above using GE. Like the Douglas DC-3 , it is a survivor, and will continue to be in service for quite some time to come. First designed as an agricultural plane in the 40's, first flown in 1947, and first manufactured in 1948, the design quickly found many other uses. Its manufacture was licensed to Poland and China (Y-5 models), which continued to produce the plane after it went out of production in the Soviet Union.




Click to see a 360 panorama of the cockpit and interior of an An-2. >>> Airport. AN-2 aircraft cockpit. Barnaul, Russia. August, 2009. in Barnaul



Dimensions are approximately 60 ft wingspan and 41 ft. length
The An-2 is in service all around the world, with An-2 flying now or at one time in all the states of Eastern Europe and China, plus Afghanistan, Angola, Armenia, Benin, Bolivia, Botswana, Brazil, Cambodia, Chad, Colombia, Croatia, Cuba, Djibouti, Egypt, Ethiopia, France, Georgia, Greece, Grenada, Guinea, India, Iraq, Latvia, Laos, Lesotho,Lithuania,Macedonia, Mali, Mexico, Mongolia, Mozambique, Nepal, the Netherlands, Nicaragua, North Korea, Peru, Poland, South Africa, Sudan, Romania, Russia, Tunisia, Turkey, Ukraine, Venezuela, Vietnam, Yemen, and Zambia. A rising number of An-2 retired from official service have been picked up by private pilots.




To see the location of all planes posted as replies to this original post, and to check to see if a plane you have found is not already in the folder, click on the attachment at the bottom of this post.

It is current to the time listed at the very bottom of the post with the

edited by Hill

notation. To see more details of the replies, I suggest using "flat mode" and working your way down the thread.

Valery35 has added the An-2 folder to the transportation network links. Download it HERE but

don't click the checkbox for the master folder.

Instead click the "+" to find and activate only the An-2 sub-folder. That updates automatically every time I make a change to the planes in this post. You can, of course, use the other sub-folders to check on updates to other collections. Opening too many at once will probably bog down your computer, so be careful

Image: http://www.fas.org



Image from http://vitols.org

Click here for more about An-2 variants.

Wikipedia link

The attachment has An-2/Y-5 biplanes I have found, and many found by others that have been previously posted. I have tried to accurately credit the original finders of the planes if they were found by others. Let me know if you have been left out.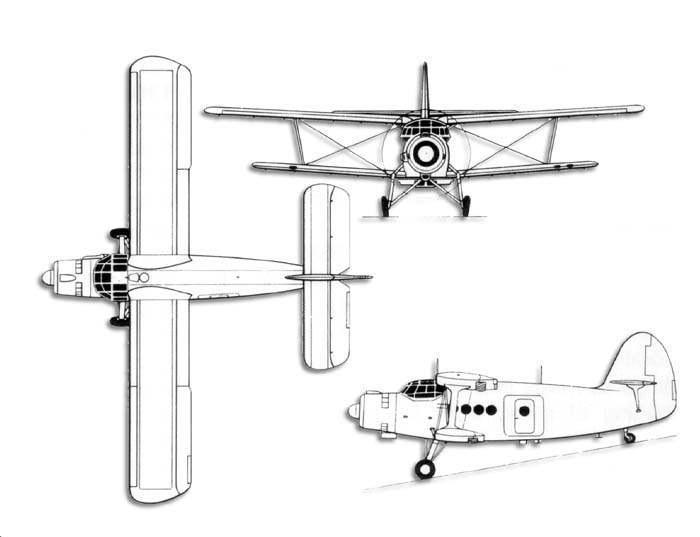 60 ft wingspan and 41 ft. length
Source
Note: Over time Google Earth imagery is updated with newer pictures. If there is no plane visible near the placemark, try switching to older "historical imagery" using the button at the top of the viewer to see what once was in that location.
New file structure makes it impossible to modify the placemark (kmz) attachment in the initial post. So you will need to go to
THIS POST
for the latest update.
_________________________
Click the images to view two important videos about our only home.
A Pale Blue Dot
HOME
"Only when the last tree has died, the last river has been poisoned, and the last fish has been caught will we realize we cannot eat money." Cree Proverb
My avatar Mr. Raven posed for me at the Tower of London.